Seit einiger Zeit steht bei uns die Summerama LE von Manhattan in den Regalen. Neben den Lidschattenpaletten, die mich mal so gar nicht interessieren, bringt uns diese LE jedoch ein paar richtig schöne Geleyeliner. Einen davon hab ich für euch mitgenommen und möchte ihn heute vorstellen: Nr. 1
Watersplash
. Die Geleyeliner werden ausschließlich zusammen mit Eyelinerpinseln verkauft, was imho leider schon ein bisschen Kundenverarsche ist. Ich hätte nämlich gern alle drei Farben mitgenommen, sehe aber leider nicht ein, mir dazu auch gleich drei Pinsel zu kaufen. Wird Manhattan die sonst nicht los? Naja. Was solls...
/ Today I'm reviewing a gel eyeliner from Manhattan's Summerama Limited Edition. The colour is called No. 1 Watersplash. There are three liners in total but they all come with a liner brush attached to them. I would have loved to buy them all but I don't see a point in spending money on three brushes (which are all the same) if I haven't tested them before. The wallet was happy, at least.
Das Produkt:
Watersplash ist ein satter, türkiser Eyeliner, richtig matt und ohne Schimmer. Verpackt ist er in einem hochwertigen Glastigelchen, preislich liegt er (inklusive Pinsel *grml*) bei 6,45€. Normal kosten die Liner 5€, der Pinsel ist im "Vorteilspreis". In der Drogerie gehts deutlich billiger, weshalb mich die Pinselsache besonders ärgert. An der Farbe kann man nichts meckern, das Design ist in Ordnung, aber diese Produktpolitik find ich blöd. Übrigens waren die Liner verschweißt, was wiederrum sehr lobenswert ist.
/ Watersplash is a very saturated teal liner. It dries completely matte and contains no shimmer. It comes in a nice glass jar and costs 6,45€, brush included. The regular price for Manhattan's liners is 5€ and the brush has received "special pricing". Still, this is not exactly cheap for a drugstore product, which is why I am slightly annoyed at having to buy the brush when I have a range of perfectly fine brushes at home. Not cool, Manhattan.What I did like, though, was that the came wrapped in plastic (which normally doesn't happen in German drugstores and it's GROSS).
Anwendung und Haltbarkeit
Der Liner ist recht trocken für einen Geleyeliner, was mir persönlich nicht so zusagt.
Ich hoffe, dass er deshalb nicht schneller eintrocknet als andere Liner. Der Pinsel, mit dem man aufträgt, sollte daher etwas Stand haben. Ansonsten lässt er sich sehr leicht auftragen, da er gut pigmentiert ist. Einzig auf dunkleren Tönen muss man eventuell noch eine Schicht nachlegen, da schwächelt er leider. An der Haltbarkeit kann ich absolut nicht meckern, Watersplash lässt sich sogar noch etwas schwieriger wieder abschminken als die Liner von Catrice und essence. Trocken ist der Eyeliner quasi in Sekunden. In der Handhabung ist er also top!
/ The liner ist quite dry for a gel liner. I hope that won't cause it to dry up more quickly. You'll also need a stiff brush to apply it as it has a harder consistency than other liners. Apart from that, working with Watersplash is a breeze! Application is easy due to its great pigmentation. It'll need a second layer against darker backgrounds, though. It wears extremely well but is slightly difficult to get off again, you'll definitely need some heavy duty makeup remover. Drying time is very short. Overall, a great liner!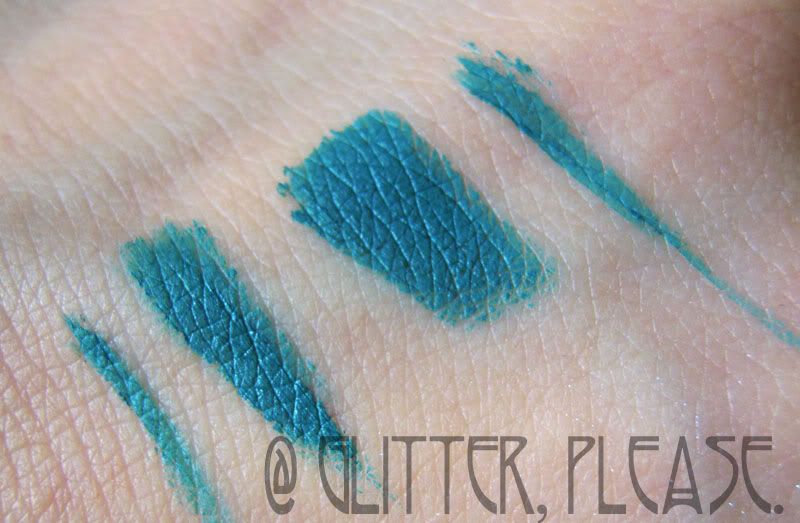 Eine Sache nervt mich jedoch sehr... Und das ist das Preis-Leistungs-Verhältnis. Weder auf dem Produkt, noch online konnte ich herausfinden, wieviel der Tigel einhält. Deshalb hab ich einfach mal mit anderen Marken verglichen.
/ What really annoys me, though, is the measly amount of product you get for 6,45€. The actual amount of liner in the jar is specified nowhere, neither on the packaging nor online.Therefore, I decided to do a comparison with other drugstore brands.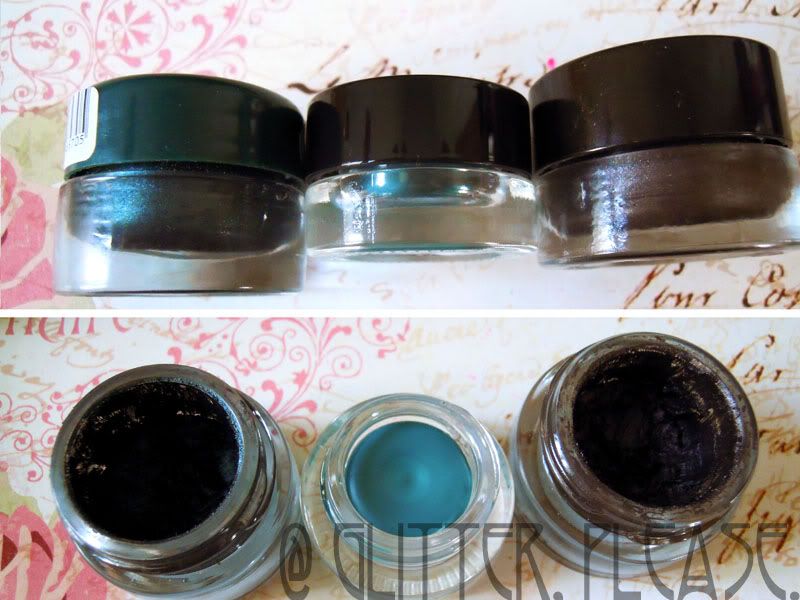 l.n.r: essence (3ml), Manhattan (??), Catrice (4g)

Die Liner von essence kosten bei einer Füllmenge von 3ml 2,99€, Catrice veranschlagt bei 4g 3,99€. Man kann beide Füllmengen zwar nicht direkt vergleichen, dennoch ist das Preis-Leistungs-Verhältnis hier sehr ähnlich. Der Manhattan-Eyeliner wirkt im Vergleich winzig und ist bedeutend teurer.
/ The eyeliners from essence contain 3ml (0.1fl oz) and are priced 2,99€; the liners from Catrice contain 4g (0.14oz) and are priced at 3,99€. The Manhattan jar is tiny in comparison!
Der Pinsel
Wenn der Pinsel nun schon standardmäßig beim Eyeliner dabei war, will ich dazu auch ein paar Worte verlieren. Ihr bekommt hier einen abgeknickten, flachen Pinsel. Durch die flache Anordnung der Borsten kann man sowohl etwas dickere als auch dünnere Linien ziehen. Der Pinsel liegt gut in der Hand ist ein solides Produkt. Die Borsten sind durch eine kleine Kappe aus Plastik geschützt. Woraus die Haare sind, ist leider nicht zu erfahren. Was mir richtig unangenehm aufgefallen ist, waren Kleberückstände, die am Schaft jedes Pinsels hafteten, der im (komplett vollen) Aufsteller war. Mit Alkohl bekommt man so etwas ab, aber normalerweise hätte ich bei so einer Produktpräsentation nicht zugegriffen.
/ As I've been forced to purchase the brush with the liner, I may as well lose a few words on it. Der brush is a standard type liner brush with a bent handle. The bristles are flat so you can draw both, thicker and thinner lines. The brush is decently made and easy to handle. I have no idea what the hairs are made of, though. They are, however, protected by a little plastic cap. What disgusted me a bit were remnants of glue that were sticking to the handles of all of the brushes! Sure, you can take that off with some rubbing alcohol but in my opinion that's really unfortunate product presentation. If it hadn't been for the pretty liner, I never would have taken a second glance at those yucky brushes.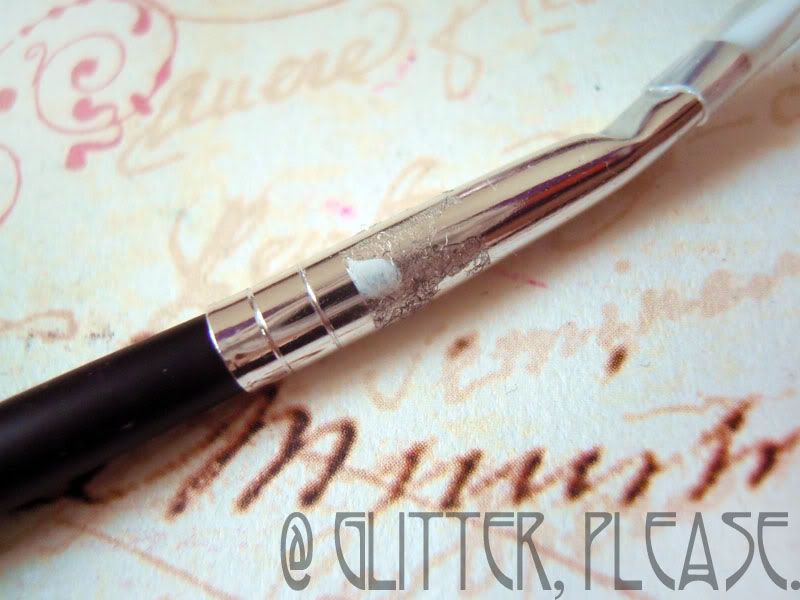 Omnomnom!
Fazit
Ich bin zwiegespalten über dieses Produkt. Die Produkteigenschaften überzeugen total, das Drumherum leider so gar nicht. Normalerweise hätte ich, wie gesagt, alle drei Farben ohne Nachdenken eingesackt, aber durch die Pinsel, deren unappetitliche Präsentation und die minimale Produktmenge hat die Vernunft gesiegt. Der Liner ist toll, der Rest nicht.
/ In conclusion I have to say I'm love with the liner itself but not with everything else. Normally I'd readily buy every colourful liner available. The additional (non-optional) brushes, the glue sticking to them and the tiny size of the jar eventually fed me up with the entire LE, though.